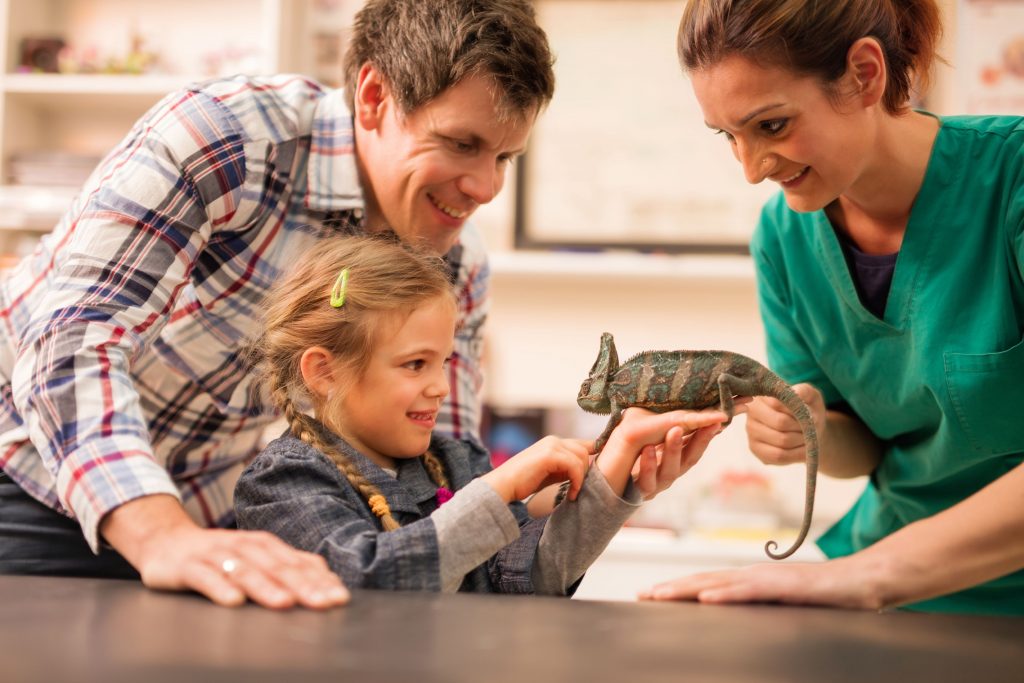 When it comes to a first pet for their children, many parents turn to options smaller than a cat or dog. Not all avian and exotic pets make good choices for kids, though. BEEVET Animal Hospital is here to help sort out how to make a smart choice for your family.
Making a Choice About Avian and Exotic Pets
Common first exotic pet choices include animals like cockatiels, rabbits, and hamsters. Avian and exotic pets include a wide range of species, though, including things like reptiles, ferrets, degus, hedgehogs, parrots, and more. The list is endless!

So how do you choose from among the avian and exotic pets? When it comes to any pet, research goes a long way. Knowing what you might be getting into can help set realistic expectations and avoid problems.
Things to consider include:
Lifespan (many exotics have short lifespans, while birds can have very long lives/ Think about what works for your family)
Nocturnal species may be less fun or even disruptive for children
Some exotic pets are prone to biting
Some species like to be handled more than others
Adult supervision is always important when handling animals
Some of our favorite choices for kids include rats, bearded dragons, guinea pigs, parakeets, and leopard geckos. Choices that are typically best avoided are turtles, ferrets, large birds, and chinchillas. Of course, every situation is different. This is where doing your research comes in!
Critter Considerations
Before bringing a new pet home, there are lots of other things to consider. Each species of small mammal, reptile, or bird will have very different care requirements and needs. Learning about your pet of choice before committing is very important.
Be sure to understand your pet's:
Nutrition requirements including treats, vitamin needs, and potential toxins
Size and type of enclosure needed along with temperature and humidity requirements
Environmental needs like bedding, hides, and nesting material
Social and mental enrichment needs
Health requirement
It is also important to recognize that avian and exotic pets need veterinary care, too. These pets need preventive care such as nutrition consultations, spay/neuter, teeth and/or claw trimmings, parasite prevention, and lab work, depending on the species.
Being sure to establish care with a veterinarian such as the team here at BEEVET who is familiar with the species of your choice is very important. Not all vets know how to treat all animals! Avian and exotic pet care is something that we are equipped to provide, though.
If you are considering adding an avian or exotic pet to your household, take the time to talk with people and do some reading before choosing. Don't hesitate to contact us, either, whether you need advice about choosing a pet, help properly caring for it, or need help with veterinary care. We are here for creatures of all shapes and sizes.